$55 MOET FRIDAYS!
Share a bottle of Moet with friends on Fridays!!
Only $55 a bottle all day!
SUPER THURSDAY
We've SUPERCHARGED Happy Hour every Thursday!
ALL DRINKS only $5 from 4-7pm!!
JOIN THE HBCC
Become a member of the Harry's Bar Cricket Club today!
$5 drinks every day the Aust. men's team play!
Free drinks with test legend Rodney Hogg!
Ticket to Adelaide Oval Test!
Free HBCC cap and more!
$10 FROZEN COCKTAILS FRIDAYS
Enjoy a $10 Frozen Cocktail in the sun on 'Adelaide's best balcony'!
Every Friday from 4pm!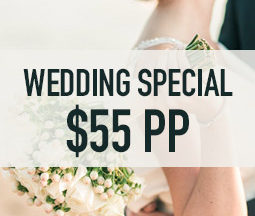 WEDDINGS AT HARRY'S
With flexible packages to suit any style and budget, let the experienced events team at Harry's help plan your big day. Options start at just $55pp; enjoy roaming canapés and a three hour 'silver' drinks package!
Contact our functions manager today.
hello@harrysongrenfell.com.au
08 8231 3951
Weekly Specials
Mondays // All Schnitzels $14.With purchase of drink.
Tuesdays // $14 Steak, Chips & Salad. With purchase of drink.
Wednesdays // $14 meals. With purchase of drink.
Thursdays // $14 Pint & Parmy.
Fridays // 3 SHARE MENU ITEMS $14 (from 2pm)
Saturdays // Everyday Happy Hour
Looking for a function Room?